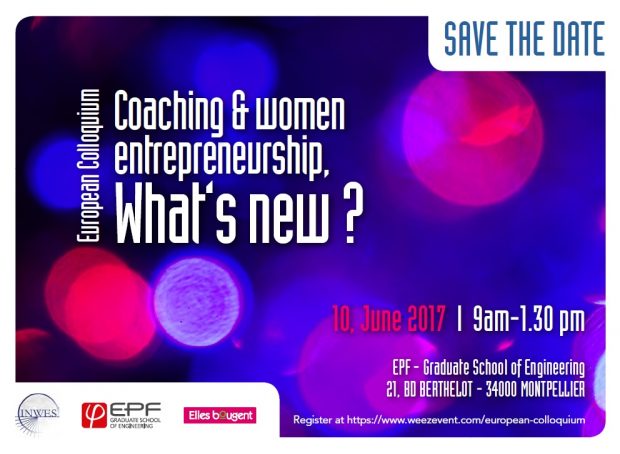 l'EPF-Ecole d'ingénieur-e-s, en partenariat avec le réseau INWES et l'association        Elles bougent, ont le plaisir de vous convier au colloque européen 100% en anglais :
« Coaching & women entrepreneurship, what's new ? »
qui se tiendra le 10 juin à 9h sur le campus de Montpellier de l'EPF-Ecole d'ingénieur-e-s
EPF – Graduate School of Engineering
21, BD BERTHELOT – 34000 MONTPELLIER
Pour vous inscrire, cliquez  Là  !
Saturday 9am-1:30pm: European colloquium
« Coaching and women entrepreneurship: what's new!?"
9h: Welcome coffee
9h30: Master of Ceremonies Prof. Karin Hills, EPF – Opening remarks by Prof. Liliane Dorveaux, EPF, EllesBougent
9h45-10h15: Keynote 1: Monica Stavire, EMEA Channel Partner Enablement Services Director  // Keynote 2: Christine DelaCroix, Tech. Support Manager, DELL and Consultant, Galatee Conseil.
10h30 – 11h15: Coaching in modern times: when Industry 4.0 is at the corner!, moderated by Eng. Yvette Ramos, Sec. Gal INWES Europe, president Swiss Engineering, Switzerland

Marie-Sophie Pawlak, ESSEC, Elles Bougent President
Eng. Soizic Vangrevelynghe, Bus. Intelligence Project Mger, LV Paris, France
Eng. Sarah Peers, Vice President of WES, United-Kingdom

One head of regional company, to be confirmed
11h15 – 11h45: Coffee break
11h45 – 12h30:Managing Intercultural and intergenerational issues with more equality? moderated by Roseni Dearden, INWES Executive Board

Eng. Sylvia Kegel, Chair INWES Europe, Dib Germany, Entrepreneur
Eng. Betty Azzarelli-Bonnardel, CEO AB5 Consulting, Chair of the SSPI, UK

One head of regional company, to be confirmed

12h30 – 13h30: Lunch Cocktail
Saturday 2pm-6pm: 
Visiting women's vineyards
We propose to visit vineyards held exclusively by women vine growers. These local wines will be tasted during the lunchtime cocktail and we shall experience in the afternoon, on the field, while meeting some of these women who describe with passion their domain, work method and technology and all the characteristics of their wine so to help your enrich your wine tastings.
Price of the visit : max.25 euros